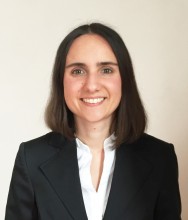 Floriana graduated in law at the University of Turin in 2010 with 110/110 cum laude.
Before joining Studio Barbero, she worked in a law firm specialized in the protection of IP rights, with a particular focus on trademark matters.
Floriana has experience in trademark availability searches, filing, prosecution and maintenance of trademarks before the Italian Trademark and Patent Office and the European Union Intellectual Property Office.
She gained experience in handling oppositions and other administrative proceedings before the Italian PTO and the EUIPO.
She was also involved in the negotiations of out-of-court settlements, in drafting coexistence agreements and in the handling of Internet-related matters.
She is an Italian Trademark Attorney and a professional representative accredited before the EUIPO from 2014.
Floriana is an Italian native speaker and she is fluent in English and Spanish.