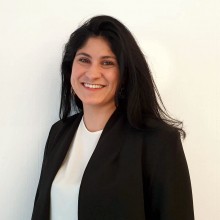 Francesca graduated in law at Turin University with 110/110 in 2010, presenting her thesis in criminal procedural law.
In 2013 she earned the Specialization degree for Legal Professions, after attending the Specialization School "Bruno Caccia and Fulvio Croce" in Turin, focused on the in-depth study of civil, criminal and administrative laws.
In the same year she has successfully passed her bar examination to practice as a lawyer and, as of 2016, she is enrolled in the Bar Association of Cuneo.
After her cooperation in some law firms in Cuneo and Turin, she joined Studio Barbero to further enhance her knowledge of the intellectual property law and to specialize in the protection of IP rights online.
Francesca speaks English and French and has a basic knowledge of German.