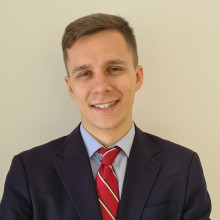 Matteo graduated in Law in 2018 (110/110) at the University of Milan-Bicocca with a final thesis on Internet Service Providers' liability for online Intellectual Property Rights infringements (Supervisor: Prof. G. Guglielmetti).
As part of the course's student exchange program, in 2015 he spent one semester at the Erasmus University in Rotterdam, focusing his studies on International and Commercial Law.
After his graduation, he worked for over three years with a law firm based in Milan specialized in consulting and legal assistance in intellectual property matters.
Matteo is Italian mother-tongue and is fluent in English.