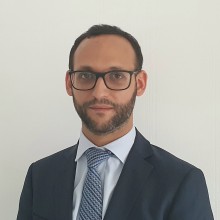 Paolo graduated in law in 2017 (110/110) at University of Turin with a final thesis on the Neighbouring Right on Sport Events (IP – Supervisor: prof. M. Ricolfi).
After his graduation, he worked as research assistant at Northumbria University (Newcastle upon Tyne) within the project "Inequality of Bargaining Power and Fashion Law" and cooperated with an international law firm based in Turin.
In 2019 Paolo passed the Italian Bar Examination and he is a member of the Turin Bar Association. In the same year he attended the LL.M. in IP, organized by University of Turin and WIPO with a final research paper on the protection, under the EU Database Directive, of Ai-generated databases.
Paolo is Italian mother-tongue and speaks fluent English.