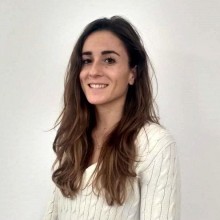 Théa graduated in Law from the University of Turin with a thesis in international law. During the fourth year of University, she was selected to participate in the "MOOT COURT" world competition, as a member of the Concours d'Arbitrage International de Paris (CAIP) team, held from September 2016 until January 2017.
In 2018 she was selected to attend the Master "Legal business skills for Europe" organized by the University Institute of European Studies, which dealt with industrial law.
The interest developed towards intellectual property led her to do, at the end of the master's degree, an internship in a law firm based in Turin specialized in this field. After this experience, she joined Studio Barbero with the aim of becoming a licensed trademark attorney and further improving her skills in the protection of the intellectual property online.
Théa's mother tongues are Italian and French and she is fluent in English.