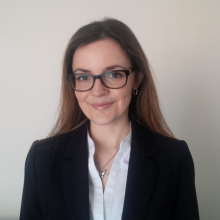 Daniela graduated in Law with honors from the University of Turin and joined Studio Barbero in 2009.
She is an Italian Trademark Attorney and a Professional Representative before the European Union Intellectual Property Office (EUIPO).
Her areas of expertise relate in particular to the registrability and filing of trademarks in Italy, European Community and abroad, and, with reference to the protection of Intellectual Property rights on the Internet, mandatory administrative procedures aimed at reclaiming domain names registered in violation of trademarks such as the Uniform Dispute Resolution Policy (UDRP), enforcement of exclusive rights on social media and strategies to protect trademark rights following the introduction of the new generic Top Level Domains.
She is in charge of the online enforcement of IP rights of companies active in various fields, in particular in the fashion and food industries.
Daniela carries out her professional activity with enthusiasm and commitment, being a valid support for the clients of Studio Barbero as well as for the coordination of the activities of the firm.
Daniela is an Italian native speaker and she is fluent in English and French.